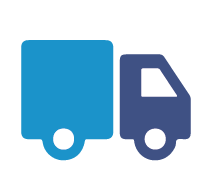 Delivery Accuracy
DirectAddress lets users get granular to easily find the address they're looking for. With over 35% of addresses in Ireland being non-unique, where there is no house name or number within the address, this leaves a lot of ambiguity when it comes to address capture.
Multiple properties sharing the same address, makes it difficult for deliveries. With DirectAddress and Eircode, this issue is greatly reduced. Our solution also makes apartment search easy with our built-in mapping tool, allowing deliveries to reach the right address every time.
Search for your non-unique address in the DirectAddress search bar. The Elasticsearch feature will instantly return a number of options to you. Non-unique addresses will appear with a (More than one property found. View on map) option.
Clicking this will allow you to find a property on a map easily, providing you with full address details including Eircode/Postcode.